Canadian Penny Jewelry
With the Canadian penny out of circulation, we're repurposing them into beautiful keepsakes with items ranging from easy to wear, simple earrings, to the more one of a kind, elegant pieces. Whatever your style, you'll be sure to find something you like. You can custom order personal years, making our penny jewelry ideal for Birthdays, anniversaries, weddings, and other memorable events.
Click on the thumbnails to explore variations of each design, and to select your personal dates. Please note: we have a stockpile of most recent years, however earlier dates become more and more pricey, and often we have to order them specifically for each request. Featured are pennies from 2012 (the last year of circulation) and 1967 (centennial doves), with pricing to reflect their significance.
ALL JEWELLERY IS NICKEL & LEAD FREE.
IF YOUR PURCHASE IS A GIFT WITH A SPECIFIC DUE DATE PLEASE LET US KNOW THE DATE YOU NEED IT BY LEAVING A COMMENT IN THE PROVIDED COMMENT SECTION TO HELP US PRIORITIZE YOUR PURCHASE.
PLEASE WRITE DESIRED DATE IN THE COMMENT SECTION WHEN CHECKING OUT AND THE DATE YOU NEED IT BY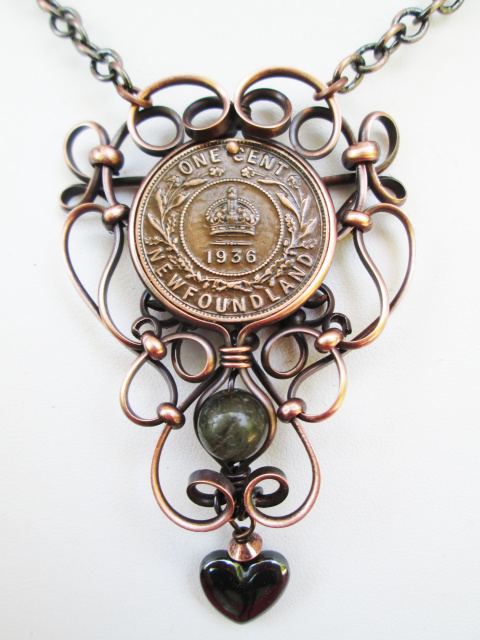 Above: a custom ordered Newfoundland penny necklace.